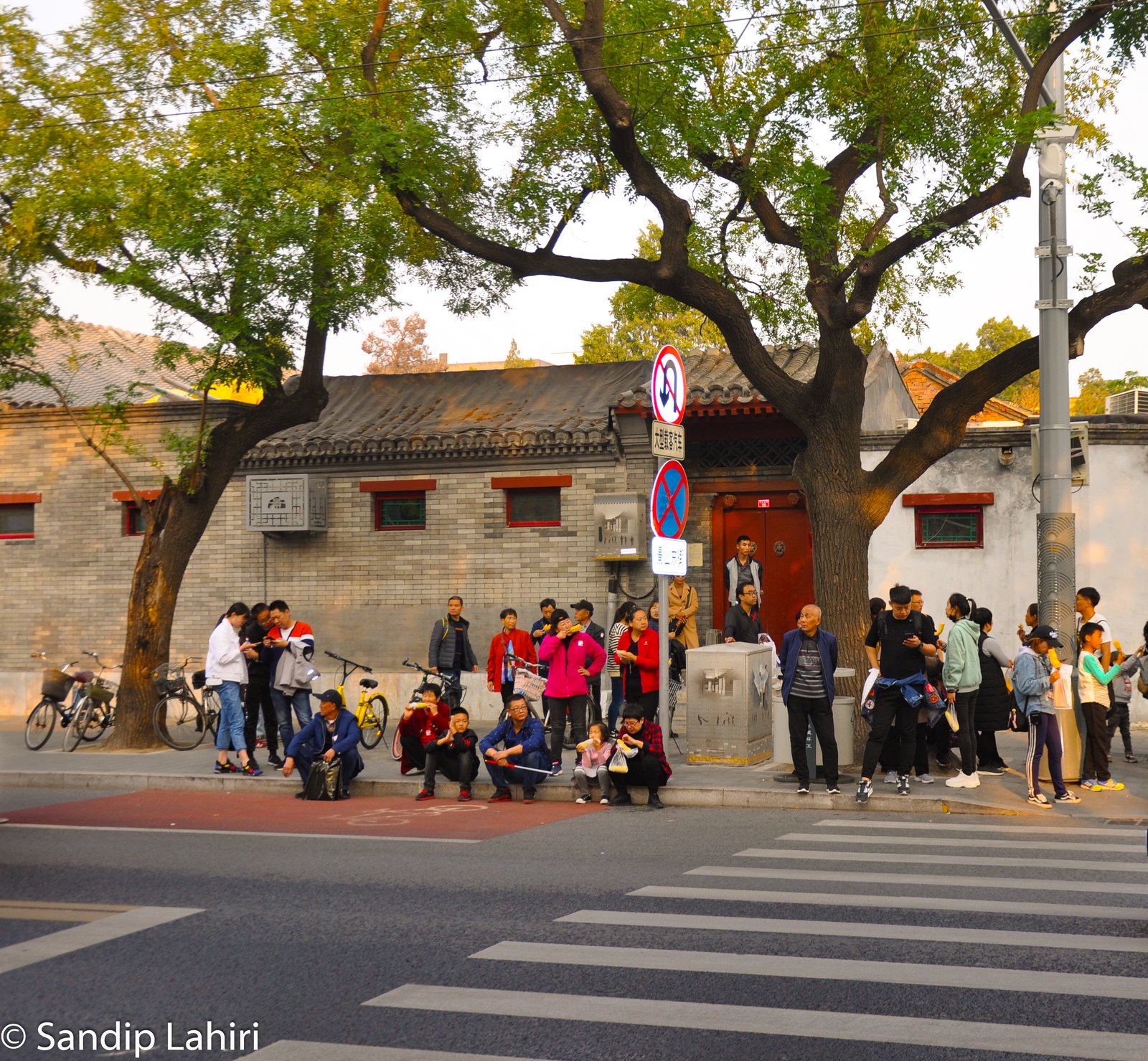 It took us about ten minutes to walk to the Yuyang hotel. The Pyxera team has reserved a conference room there for our orientation.
We walked past the green railed sidewalk overlooking the emerald-colored waterfront of Liangma river. Then jaywalked across the street to enter a neighborhood with rows of neatly ordered buildings along the road. There were arched signs of community names. A community is a walled zone with multi-storied residential buildings. It has its own grocery, convenient stores, and pharmacy. A long line of cars was parked along the street side. A woman with a large yellow hat and uniform was collecting parking fees from the drivers and handing them paper receipts.
The Yuyang hotel is a 4-star hotel in the east of Beijing. We walked through the ornately decorated lobby and took the elevator to the third floor. This was the conference floor. We went past the local event attendees dressed in formal attire and their employer logo draped registration desks.
The conference room was enough for the team and the supporting staff. The chairs were decorated with rich red fabric. We took our seats and waited for the orientation to begin.
Human Bingo
Brandon from Pyxera greeted us. We would first have a couple of team building exercises to get to know each other better. I groaned mentally. Some of such past activities did not exactly build much besides being awkward.
We would first play the Human Bingo.
Each of us was handed a paper sheet containing a 5×5 table at the center. Each cell of this table, except for the one in the middle, had a personal tidbit data. For example, "Has eaten an insect" and "Is afraid of spiders". Our job was to find, in a few minutes, the team members who match the data. The first person to match data in a full row or column cells was the winner.
The team quickly clumped together in small groups. Colleagues started running from one ad hoc cluster to the next. Excitement and urgency trumped professional politeness. It was a chaos all the way till our time was up. There was one winner. We then took our seats. Brandon went over each of the data in the 24 cells and asked us to raise our hands if we match. Then each of the members who raised their hands would talk about it for a few seconds. In less than an hour, we broke through our job roles, titles and brand barriers to begin to understand each other.
Brandon then announced the next exercise.
The Lifeline
We have to create a personal timeline with a sequence of our life's events. We have to show how these events impacted us. Once we are done we would discuss it with a team member who would then present it to the entire team. It was an eye-opening exercise. While mine was a very simple line graph, there were some really creative ones. The style varied widely. One of the team members drew her timeline as a meandering up and down flows of a river. The events were drawn as icons with the skill of an artist. One of the younger members drew his lifeline as a tree with events as roots and trunks. Suddenly we found staring into the very personal hills and abysses of people whom we had just started to know. We would fall silent at times faced with our colleagues' personal struggles and losses. Other times we would laugh uncontrollably with the light-hearted description of someone who only looked at life's bright side. Once the exercise was over, we realized that we have come to appreciate each member as a human being over their country, language and custom.
A Name With A Meaning
I found one personal description particularly memorable. Peng Tian wrote her name in English on the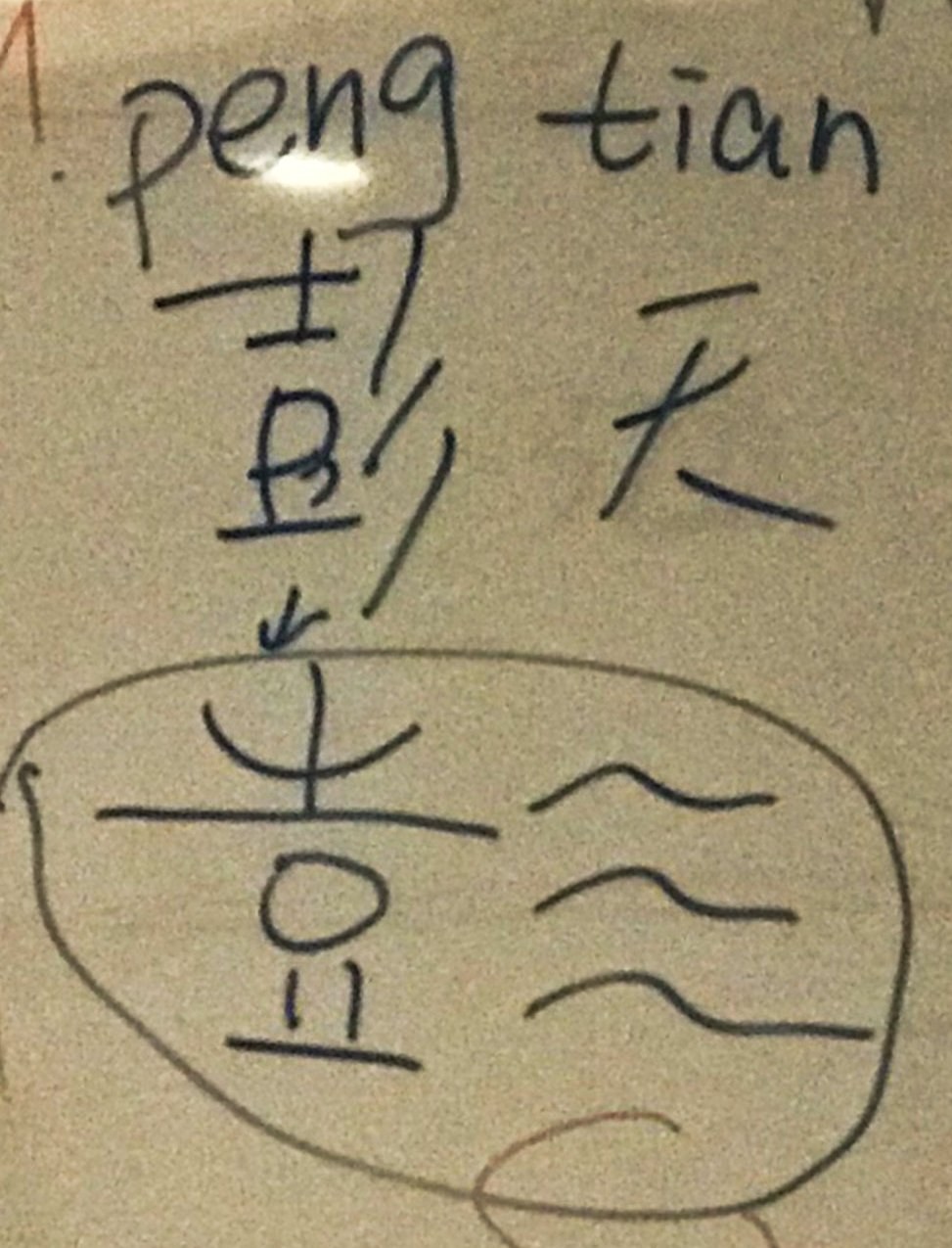 whiteboard. Below her name, she scribbled the equivalent using two modern Chinese characters.
Then she wrote down another version for her first name, Peng, below it using the character used about two thousand years ago.  This character had two parts. The first part consisted of an arc facing upwards with a vertical and horizontal line that represented a large ceremonial drum. The circle with two vertical lines and a base depicted the stand. The second part consisted of three waves that showed the sound of this beating drum, "Peng", traveling to lands far away.
This is the first time I saw how spelling, meaning and the effect of a name become one by a single character of a language.