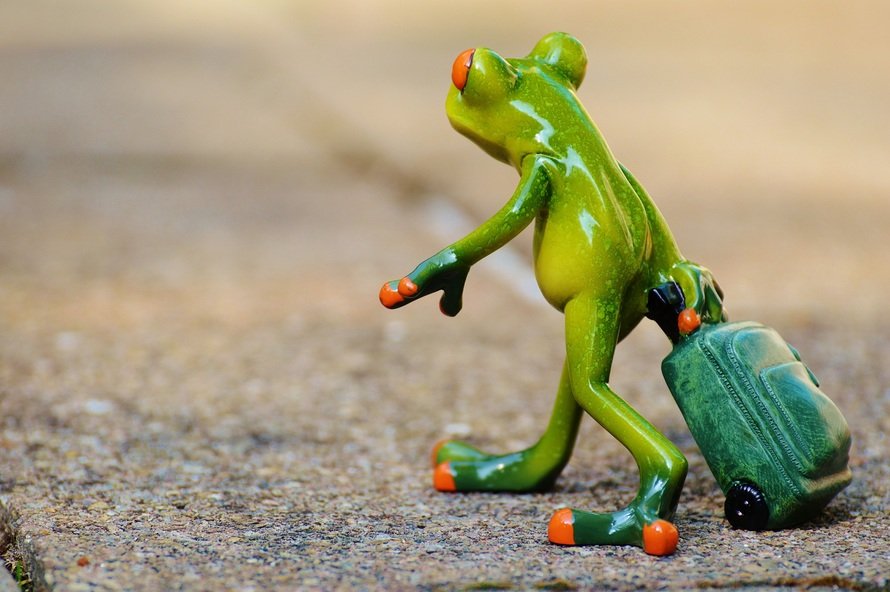 What The!
Imagine this.
You are entering the airport lounge through the landing gate of your international flight. It feels like an escape from jail. You have spent several hours sitting in the middle seat sandwiched between a crying toddler and an over-friendly salesperson. It did not help with the three passengers in your front row seats who played Sudoku for the entire night with their overhead reading lights on.
You are tired and miserable. Slowly, your mind wakes up to the next steps.
"Which way is customs and immigration"
"Do I have those entry forms"
"Where's my passport?"
Then you see a horde of passengers scurrying down towards your left.
You start to panic, "Yikes! I see at least a hundred people before me. Wonder when can I get out of the airport".
And then you notice something really strange. I mean very seriously strange. There's a person walking rather casually, in his birthday suit, in the same direction as the swarm. That guy is not carrying anything on him in the most literal sense of the words. After the initial shock, you tell yourself, "Mr. Naked Traveler! I can understand people forgetting their passports but this guy forgot to put his pants on! It would fun to watch how far he can go!"
Momentary distraction! You scold yourself for wasting precious time. Now it's time to hurry up and wait at the entry counters. After ten minutes of what seemed like an eternity you arrive at the end of the immigration line – behind exactly a million folks. You perspire and curse. Then you take out the entry forms, your passport and a pen. The laborious form filling process has now started.
About fifteen minutes have passed. You have progressed less than ten inches in the line. Your sense of frustration and tiredness is overcome by the shock of seeing the Mr. Naked Traveler again. He has just arrived and he is in no hurry at all. But instead of standing in the line, he carelessly walks towards what looks like one of those TSA scanning machines.
You nod your head in amazement. "Did he went that way because there's no line? What a moron! Some people need to take professional lessons to travel".
The Naked Traveler completely ignored the Eyes of the Universe on him. He walked through the machine as if it was invisible. Then you noticed something very strange. No one stopped him. In fact, one of the immigration officials waved at him!  Wait, what! There's more. Mr. Naked then strolled towards the Customs desk. Again, no one stopped him. The Customs Officer pointed Mr. Traveler to the Exit door. He stopped and suddenly turned around to the sea of perplexed faces behind him. A faint condescending smile appeared on his lips. He then walked through the doors and disappeared.
You never felt stupider in your life.
"How come I am stuck behind a bazillion people with all the world's docs in my hands? And how's that that bum without pants just flew through? Can travel be this easy?"
Well, it's true that Mr. Naked Traveler was, ahem, seriously naked. But he had himself!
"He had nothing, but he possessed everything".
Really?
A passport is the most overhyped paper-based document that he did not need.  Add to it the visa stamp on his passport, filled out paper entry forms and any other paper based documents that may apply.
All of these could be counterfeited or stolen by an impersonator from a legitimate traveler. Therefore, having a paper based process is neither necessary nor sufficient for establishing true intent of entry – identity and authorization of a traveler.
It just delays the entry transaction time and makes the life of a traveler hard.
A traveler entering a country can be compared to a user logging into a system. It does not matter if the user is dressed in a three-piece suit or a willing victim of wardrobe malfunction. He must authenticate himself to the system first by (typically) using a login id and password. In return, the system grants him permission to "tour" the system based on his authorization settings.
A traveler carries with himself intrinsic identification based on his biometrics. It is embedded deep into the carbon of the traveler. This identity credentials cannot be duplicated. It cannot be stolen, something that's possible with extrinsic identification schemes like RFID (Radio Frequency Identification) or paper based documents. A traveler can "type in" this intrinsic authentication in the "login screen" of an entry point. For example, proper biometric readers can read the traveler's biological traits. These can include identifiers like fingerprints, hand geometry, earlobe geometry, retina and iris patterns, voice waves, and signature.
Once identified, the traveler's authorization profile can be automatically determined from various secure digital credentials. These would be a digital version of his passport, visa, and other supporting endorsements. The entry form data can be automatically gathered, for example, from the arriving flight number that was electronically confirmed when the passenger checked-in at the gate.
That's it.
How?
The Naked Traveler experience can be implemented today using three things:
Exposing capability of existing systems through APIs. With proper security in place, only the right parties can call a certain API. The existing systems can remain almost unchanged [see blockchain below]. Take the scenario when Mr. Traveler walks through the TSA like machine that captures his biometrics info in real-time. Once gathered, the system then uses an API call to find out if he owns a valid passport. The underlying API can use multiple other API calls to get this done. One of these APIs might look up a Blockchain ledger to see if a valid passport ownership transaction exists for Mr. Traveler. If so, another API call is made to the issuing country's system to check the passport expiration date. Security can be enforced for each of these API calls. So, to repeat, only the right parties can call these APIs. More paper based decisions?
Recording transactions securely and immutably in near real-time. This certainly smells like Blockchain. Take for example, the Mr. Traveler's passport. It can be thought as a digital "good" that was "sold" by the Govt. to him. Once this "sales" transaction is recorded in an appropriate Blockchain ledger, it is immutable. That is another person cannot steal it from Mr. Traveler by changing the ledger. The same concept applies to his visa. And to other credentials that were "sold" by different parties to him as well. Note that an individual "selling" process can still be paper based. That is Mr. Traveler still continues to fill out electronic and paper forms in their various incarnations. The associated security and validation checks still continue to use the existing processes. But, once each of these are finalized, a suitable blockchain record can be created to seal the deal. This can now be the used for speeding up the transactions build on its top. [See API above.]
Starting small with a few collaborating parties to automate a part of the process. Then iterating and evolving to eliminate the friction completely.
Moving Forward
Biometric Authentication and Digital Authorization (BADA, just made it up) taken together has been been around for a long time. But the new technology can help us extend it to do a lot more. Let's look at the following scenarios:
No wallet, No problem
You are in this big shiny store doing Christmas shopping. You have sifted through the myriad items in the store for hours and picked just the right ones for your family and friends. You did not mind spending another hour in the checkout line. The cashier has meticulously rung up all the items in your shopping basket. You just have to pay now and call it a day.
There's a slight problem. You forgot your wallet.
Ooopsee! You now have two options – return all the items and start all over again tomorrow, or call your spouse to get yelled at.
But there's a third option. You step up to the Customer Service desk. They pull up your checked out items in the computer and ask you to authenticate using a biometric device. You select your bank name. In a few seconds, the checkout screen shows the accounts, including credit and debit cards, associated with the bank. You select the account you'd like to use.
Bada bing!
Drive without license
Driver's license is probably one of the most misused IDs in the USA. So, let's say you were doing a respectable 90 mph on an empty highway at 1 am in the morning. Hey, every one was doing it (or would have done that given the opportunity). But now you have to explain it to the officer who just stopped you.
You apologize and the officer politely asks you for your driver's license.
Of course! Here, it is.
Oh wait! Cannot find it in my wallet.
You panic and about to cry.
No problem. The officer pulls out a biometric device.
You authenticate. The Officer pulls up your driving license and history in his laptop.
Guess what, this is your first official moving violation.
The officer lets you go with a warning.
Whew!
Running a mandatory BADA check in these types of law-and-order situations may not be a bad idea. It can quickly identify certified troublemakers and law abiding citizens. This can stop considerable trouble down the line.
Conclusion
It is improbable that a biometric authentication system will work with 100% accuracy under all conditions. It can come close under a controlled environment like an airport. So a BADA system may have to include some type of external audit. It could be as simple as a  manual check by a human. When the Officer pulled up your driver's license on his laptop, he verified that the picture on it matched with your face.
After all everything is a trade-off between accuracy and acceptable risk of failure.