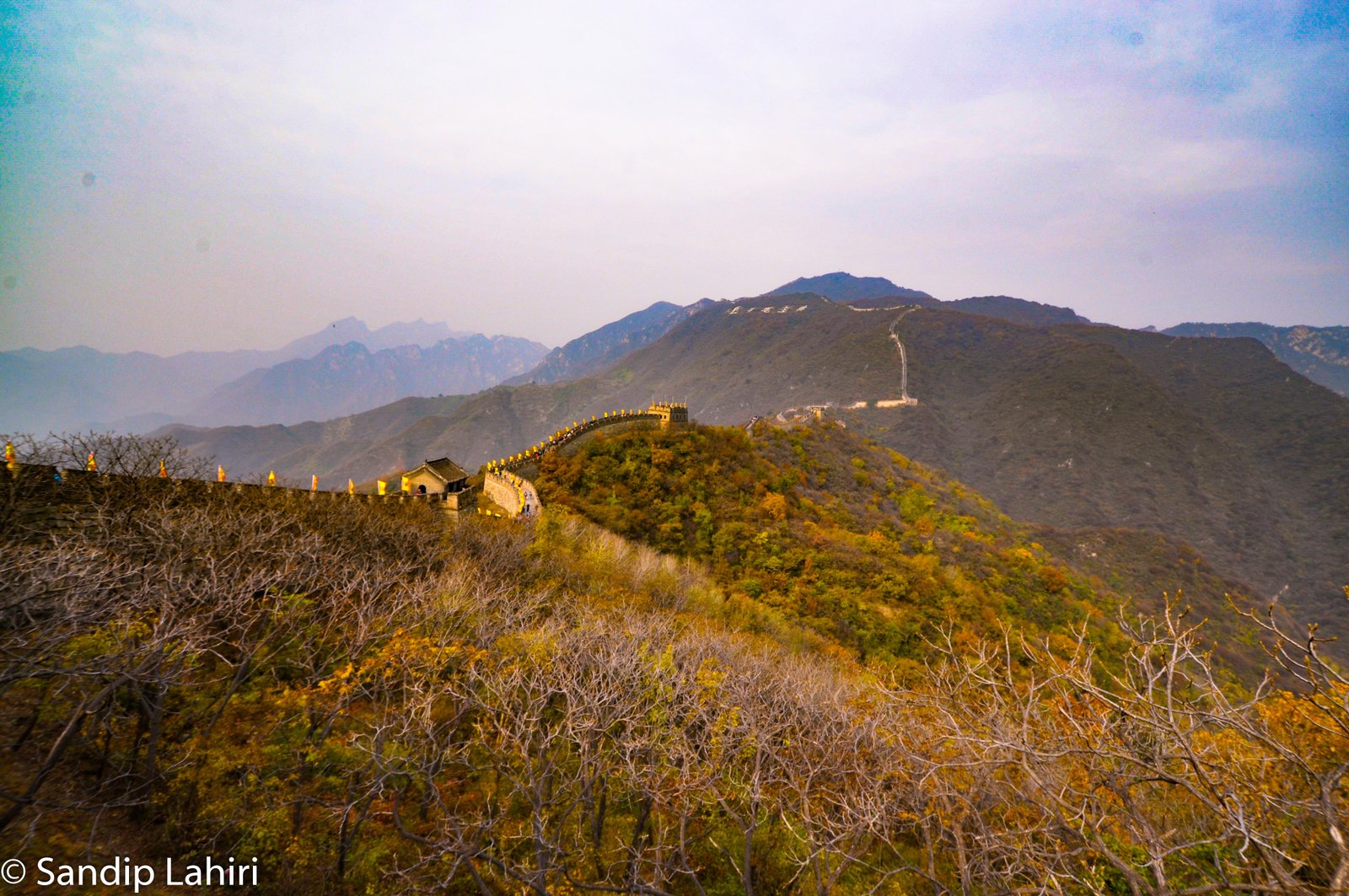 Last Sunday, I paid 60 yuan (USD 8.64 approx.) for a 10-yuan chocolate ice cream cone.
I saw one potential customer to run away uttering, "No, no".
But I did not. Instead, I boldly paid for the ice cream and started munching on it with a vengeance.
What was I thinking?
Not much, given that I was about to meet my maker in a few moments. Or,  what it certainly felt like after climbing a million stone stairs leading to Tower number 10 of the Great Wall of China.
I gleefully decided to hike to the Wall instead of taking the cable car. It was a mistake. To make the climb worse, I was lugging a heavy bag with camera and lenses. I stopped several times, after climbing a few flights of steps, panting like a harassed dog trying to gain back my breath. I would then struggle forward only to repeat the whole process in a few minutes. Many times over.
Then I met a smiling American fellow climbing down the stairs.
"Don't worry, you are only two minutes away from the Wall", he grinned widely as he passed by and  added, "Then it gets worse".
I did not know what to say. I wanted to lie down for a while.
And then I saw the ice cream shop.
Let me tell you, I made the right decision.
The sugar and the cold feeling of hydration recharged my body. I got up and carried on.
The Journey
Our IBM Corporate Service Corps (CSC) team took a bus to the Mutianyu Great Wall of China. The trip to the Wall took us about an hour and a half from our place (Donzhimen). The bus rental was 1,400 Yuan and we added 50 Yuan as lunch for the driver. With the Wall entrance fee, it came to about 140 Yuan per person.
The scenery on the way to Mutianyu was beautiful. Once we left the city, the landscape became an endless painting of bright yellow and orange foliage with small waterfalls meandering through the green hilly pastures. The roadside was sporadically occupied with carts overflowing with apples, sometimes their owners nowhere in sight.
The Walkway
We arrived at the bus stop leading to the Wall entrance. We got off and walked through a long and wide stone pathway. It was lined with vendors on both sides peddling their colorful wares.
Lesson learned –  bargain! Start at 20%-30% of the asking price and stay there. Also, buy when it's closing time as the sellers will readily come down on the price. I bought two stone seals, for 200 Yuan, carved with the English and Chinese names of my family members. I also bought a large Chinese straw hat despite the cloudy weather. I paid 30 Yuan for it against the asking price of 85 Yuan.
Another notable thing was sighting of stray fluffy cats on the roof of a restaurant.
The Great Wall of China
The wall is a marvel of human creation. The architecture and construction are something to experience first-hand. The wall is not horizontal but traces the ups and downs of the underlying terrain. The walking surface consists of stairs of various steepness and sizes as well as stone pavements. The wall is interrupted every few thousand feet with a tower. These were used to watch enemies and transport messages in ancient times.
We were exhausted after walking across four towers.  If you are planning for a long walk, I advise you to take the cable car to the Wall. This will conserve your energy that you can then put to good use towards your aspiration.
I took the cable car on my way back around 3 PM. The fare was 100 Yuan. I had a late lunch of spicy tofu at a small restaurant near the entrance.
On my way back, I fancied walking further on the Wall next time. How far can I go? One of the previous CSC teams went as far as Tower number 24 – a whole 10 more than what we had accomplished. By the way, did you know that people have already walked over the Wall from one end to the other?  That would be about 5,500 miles! It would take me several months and a lot of very expensive chocolate ice creams.