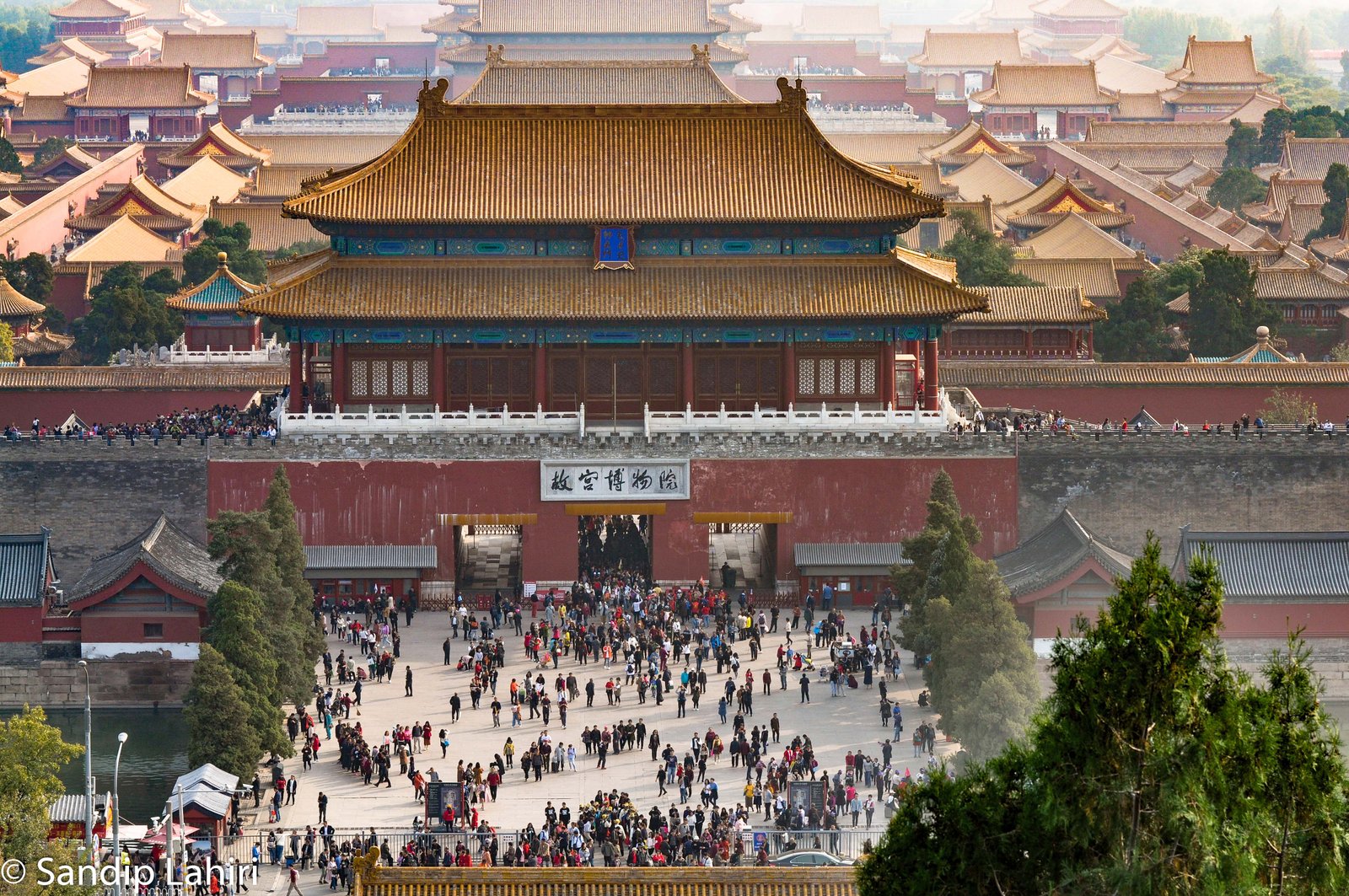 I could only sleep for two hours.
But I felt refreshed.
I quickly took a shower and got ready. The Pyxera team would meet us at 9:30 AM in the hotel lobby today. We would go out and take a tour of Beijing.
I got down in the lobby around 7:30 AM and decided to scout out the local area. The outside was bright and sunny. The doorman courteously hold open the entrance door for me. I bowed and said, "Xiè xiè". Cold wind greeted me as I started walking down the stairs towards the hotel exit. Once outside the hotel, I turned left.
The sidewalk was wide and lined with trees as far as eyes could see.  It projected a sense of calmness against the backdrop of a busy city now waking up. Clusters of yellow bicycles parked along the sidewalk patiently waited for their renters. Traffic flowed smoothly in the wide road across our hotel with a surprising low noise level.
Electric bikes and scooters harmoniously shared the road with cars and buses. Their riders were ensconced in thick cotton front jackets something I have never seen before. These jackets, attached to the two-wheelers, only have a "front splash" with sleeves. A passenger slips their hands inside these sleeves and is protected from the cold wind while in motion. Local ingenuity at its best.
Several people were wearing masks. Were they sick? I wondered. Then I recalled that Beijing has an air pollution problem. The surrounding air looked smoggy although it was a bright sunlit day.   A sudden feeling cold reminded me that I was not wearing my jacket. I decided to turn back to the hotel.
The Tour
The Pyxera team started assembling in the lobby around 9 AM. There were twelve Project Assistants (PAs) – three for every sub-team. A mix of recent graduates and university students, each team member is bright, smart, ambitious and hard working. They are our lifeline to navigate the maze of language, custom, and logistics in Beijing.
Our first stop would be at the Beijing National Stadium also known as the Bird's Nest (niǎocháo). It was built in 2008 for the Beijing Summer Olympics and Paralympics. It will be used again in the 2022 Winter Olympics and Paralympics. We would also be visiting the nearby Beijing National Aquatics Center also known as the Water Cube. It was built for the swimming competitions for the 2008 Summer Olympics.
After a lunch break, we would visit the Jingshan Hill – a small hill that offers the best panoramic view of the city of Beijing. It is inside a 57-acre imperial park called Jingshan Park immediately north of the Forbidden City in the Imperial City area of Beijing.
Around 9:30 am we boarded a white tourist bus reserved by Pyxera for our day tour. As the bus meandered its way through the city, I settled down in my seat and let my gaze travel over Beijing.
Please share any photos in this blog as you like.