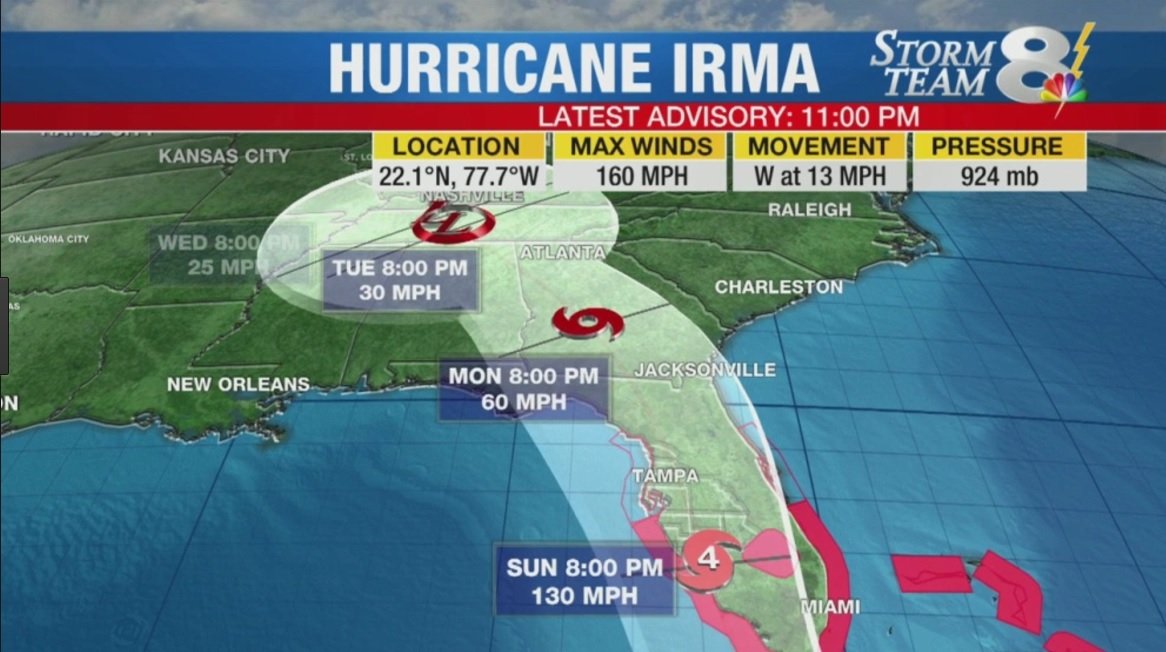 Image Source: News Channel 8.
Irma, one of the strongest recorded hurricanes, struck the Cudjoe Key in Florida early Sunday (9/10/2017) morning as a Category 4 storm. It prompted the largest evacuation in Florida's history – 6.5 million people or about a third of state's population. Irma hit Tampa, my home town, early morning on the following day as a Category 1 hurricane with a wind speed of 85 miles per hour. It could have been a lot worse. Meteorologists predicted Irma to hit Tampa as a Category 4 storm. But Irma shifted course slightly. Even then the impact from the hurricane has been widespread.
Fortunately, my family was not harmed. My house lived through the storm unscathed. We did not lose electricity. We evacuated to Atlanta late Saturday (9/9) afternoon. We spent two days there at a family friend's house closely monitoring Irma's progress on TV and social media. Most of our friends evacuated too. Some went to stay at local shelters, while others moved into other cities in Florida and outside. A few decided to stay put at their homes. Most of us experienced various degrees of trauma irrespective of the option we picked.
Key Questions
Essentially, you will be faced with three critical questions when facing a catastrophe:
Who can help you?
What can you save that took you a life-time to build?
What resources do you have to face the crisis?
Your brain will be the first thing to stop working during a crisis. Therefore, you must make all your major decisions well in advance.
A really important perspective is that you do not have any control over the consequences. Several precautions that people typically take, for example, placing sandbags around their homes, are just to comfort themselves that they are in control. In reality, none of these matter. A different perspective is needed – that your and your family's lives matter over everything else.
This blog is a summary of the lessons we learned as a family surviving a crisis. I hope you will be able to use these when facing a similar situation.
Lessons Learned

1. Form wide and deep social networks. The value of social network is invaluable during a crisis. We were humbled by the support we have received from our friends and community during hurricane Irma. In my frenzied quest for professional eminence a.k.a. rat race, I may have ignored people in my social circle. Irma forced me to realize that a crisis reverses the importance.  Build your personal networks way before you need them. Make it a priority and start today.
We were completely unaware of the Irma's destructive potential. "Yeah, right! Just another hurricane." I thought. Then I went to Costco on Monday (9/4) after work. I noticed a strange thing – they ran out bananas. A store personnel looked at me in amazement, "Why are you so late?" "Huh? What? I guess he's just kidding." I smiled, confused. I came home and casually mentioned it to my wife. "What? You don't know?" she exclaimed. She had been following social network discussions since afternoon. The tension in our household just shot straight up from there.
Information is a critical resource during an emergency. Yes, there will always be continuous news coverage on TV and social media. But you will also need information tailored to your specific situation and environment. Stay connected with as many people you can – your neighbors, community members, friends, and even strangers – online and offline.
I highly recommend WhatsApp. Do not face a crisis without it. Please download and install it on your mobile phone today.
For example, on Monday (9/11) after Irma had just passed Tampa, I was wondering when I should drive back to Tampa from Atlanta. I was not sure about the I-75 highway conditions and if there would be enough gas available along the way. A WhatsApp group soon got started titled Travel to Tampa via i75. It almost immediately had more than 250 members. Several of them, driving along the highway, started posting real-time personal information about road conditions, exit numbers with gas station names where they fueled up, weather conditions, accidents and more. I found the information very helpful to plan and drive back home.
2. Decide and act in advance. Inability to make quick decisions was the number one reason for our tremendous stress during Irma. You are paralyzed and confused with the chain of events happening rapidly. But the crisis demands that you make right choices within limited time about things you have never thought of before. And then you have to carry out these decisions. By then several thousand people around you will be your direct competitors. This will result in bare grocery shelves, severely clogged roads, cancelled flights, empty gas stations, shortage of emergency supplies like batteries, flashlights, plywood, candles, propane tanks and the like. Consider the following areas at a minimum.
a. Food. Do not spend time on cooking. Buy non-perishable food items like cereals, nuts, protein bars and protein shakes. Supplement with items that can be cooked, for example, pasta, rice and lentils as a long-term backup.
Our family spent most of the time, from Tuesday (9/5) till early morning Friday (9/8), on shopping for emergency supplies and groceries. We cooked enough food for our family to last for a week, thus wasting a lot of time. We thought the worse that could happen was to cook for another week without gas supply. So I ran out to buy two propane tanks.
In hindsight, our effort did not make much sense. Power outages are very typical during and after a hurricane.  If that happened, all our perishable groceries and food in the fridge would have perished within a couple of days. The propane tanks would not be very useful then. A better strategy would have been to reduce our dependence on cooked food and stock up on non-perishable food items. However, our house did not lose power. The cooked food and perishable groceries therefore came handy after Irma! But next time, we are not repeating what we did.
b. Water. Ration one gallon of drinking water per day for every member of your household. Buy bottled water as these can be stored for a long time. I bought enough drinking water for the family for a week. You need clean water for cooking and hand-washing. I bought two 10-gallon plastic drums from Home Depot to store water for this purpose. I also relied on water from the swimming pool for other water uses like flushing toilets. You can also fill up your bath tubs. But check for any leaking drain stoppers. Note that as we evacuated all this preparation was largely wasted. But I am not complaining!
c. Supplies. Assume that your home will lose power for a week to two weeks. And that there will not be any supplies available in the local stores during this time. If you evacuate, chances are your car may not have enough fuel to travel to a safe location. Empty gas stations are the real risk. There have been reports of people running out of gas and getting stuck in the middle of their Irma evacuations. Do not be fooled by the distance you see on Google Map or Waze. Worsening road conditions may force you take long detours through unfamiliar roads. The maps will automatically update with new suggested routes that may extend the original distance by quite a bit. As a rule of thumb, add twenty percent to the total estimated miles to your destination.
Consider buying the following as a minimum – flashlights with correct battery types, (typically C and D); candles and match sticks; gas lighters (do not bring if you are evacuating with filled gas cans); plastic drums to scoop water (I bought a couple of these drums from Home Depot); gas cans to manually fuel up your car, buy enough cans to give your car a total range of at least 500 miles. The assumption is that you will find one gas station within this distance where you can fill up your car and the cans; can opener, disposable plates, cups, bowls, spoons and forks.
We did not have time to buy gas cans as the stores ran out of them early in the week. I bought a set of C batteries from our local Costco. Our vehicle's odometer showed a range of about 500 miles on a full tank of gas.
Once we were on the highway, I started looking for gas stations when the fuel gauge showed slightly above 1/2 full. That gave me the flexibility to check out all the gas stations for the next 250 miles. All I needed was just one open gas station. I could then drive for another 500 miles, more than enough to reach my destination. In reality, I had to drive another 75 miles or so to find a gas station that was still open. All gas stations along the way were either closed or had tapes around the pumps.  I will repeat this strategy next time.
d. Automobile. Your entire family should travel in one car. This ensures that all the family members stay together. This simplifies your lives greatly during a hurricane. You may have more than one car. Designate your evacuation car in advance. The selection should be based on three criteria – size, larger the better; how many miles can it travel with a full tank of gas, more the better; reliability, higher the better. It does not matter how much your other cars cost.
Make sure your evacuation car is serviced for regular maintenance close to the impending hurricane. This should include an oil change, proper inflation of all the tires, coolant and brake fluid level checks. Also examine the tire treads to make sure you can drive at least a  thousand miles on them. Fuel up the car as soon as you hear about a major storm heading towards you. Fill up all the gas cans right away.
We used our minivan that was serviced (by me) a few weeks ago. I knew we could easily drive a couple of thousand miles before the next service date. Something pleasant happened – the I-75 highway was clear! The majority of people who were evacuating had already left the state. They suffered through terrible traffic jams on the highways. It turned out that we made a smart move by starting out very late (around 5pm on Saturday)!
e. Data. Backup all your computers on portable USB drives that you can carry with you. I suggest two backups, each on separate drives, for every computer you own.
I diligently copied all data on two backup USB drives. Then forgot to carry the drives with me!
f. Documents. Always carry your passports even if you will not cross the U.S. borders. As some of us found out, in an emergency passport is always the preferred identification document. Please do not forget your driver's licenses. Also, carry all the important original documents, for example, social security cards, birth certificates, and marriage certificates. I advise you to file these in a special physical folder that you can carry with you. I have created a GTD (Getting Things Done by David Allen) folder system over time that files every piece of physical paper that I keep. It took me less than 30 seconds to pull out the folders I needed from my GTD file cabinet.
We carried all the important documents in a clear plastic bin.
g. Fortifying your home. Note that if a Category 4 storm hits your house, no amount of fortification can save it. But securing your home roof, garage doors and windows may give you some level of protection. Remember that a lower category hurricane (under Category 5) can also destroy your home.
There are multiple options for hurricane proofing your home. For example, for windows and doors, there are hurricane shutters that come in at least four types. You can also use impact resistant windows. Do not waste your time on sandbags. Let me tell you – this is not as simple as it looks. You must do your own research to determine the right options for you. I have started doing my research, albeit after Irma. I will publish a separate blog on this topic.
We did absolutely nothing to protect our home. I watched a few YouTube videos on how to board up windows with plywood. All local stores ran out of plywood long before then!
h. Weatherizing home landscaping. Replace gravel and lava rocks in your yard with mulch. Trim long branches of trees that are close to your and neighbors' houses. Cut down trees like oaks that get uprooted easily. Make sure you get the needed permits from the right authorities before you do so. Multiple large oak trees in our community fell during Irma blocking roads. There was no reported injuries.
Fortunately, I had already removed the two large oak trees from my yard that were close to my house. Unfortunately, the process took about six months with a total cost of about $3,000. In Florida, local governments can impose severe financial penalties on you for cutting down trees without proper permits.
i. Clothes. Wash and dry all clothes that your family will need to wear for a week.
We did wash and dry all our laundry by Friday (9/8).
j. And finally: Evacuation. Assume that your house will be wiped out. Everything in it will be gone. And no one would be able to save you from it. What are you going to do?
The logical answer is, "Save my family first. Nothing else matters." The emotional answer is, "No way! We will perish with our house."
What would be your choice?
This is the hardest part. You must be ready to leave the place that not only represents your biggest investment but also is your identity built over your entire life.
But it may have to be done depending on the nature of the catastrophe.
That was our lowest point. We woke up on Saturday (5/9) around 11 am. We muted all our cellphones so that we can sleep late. Big mistake! We were horrified to see dozens of WhatsApp messages and several missed calls on our phones. These came from friends who had evacuated early morning and were moving in either to local shelters or driving out of Florida. We felt paralyzed for several seconds. Then it hit us. Our house cannot survive a hit from a Category 4 hurricane. It will be gone. With everything we have built through our entire lives. What should we take?
In a mad dash, we started piling random stuff into a big suitcase. We got all our official documents. Then our favorite dresses. The suitcase filled up quickly. We then realized that if we had to evacuate to a shelter that's probably the only luggage we could take. We packed up our laptops, cell phones and their chargers. The next question was where we should go.
We had the following choices.
i. Shelter. This is typically a school or some other government building that doubles up as a hurricane shelter. It is manned by volunteers from organizations like Red Cross and local county employees. A shelter may or may not allow pets. Each room houses at least four families. You cannot bring food with you. But you will be served three hot meals a day.  There's a strict limit on the luggage that a family can bring with them. A shelter may not have a generator. The shelters turn off the lights around 9 pm.
We first drove to a local shelter, a middle school, about a couple of miles from our home. When we arrived there around 2 pm, the place was packed. We were lucky to find a parking spot at a remote corner. There were people everywhere with dogs, cats and other pets. We saw people waiting in line since morning to get a room. And it was getting worse by the minute.
We decided that we could not stay there or any other shelter for that matter. However, we met a family friend at the same shelter. He had checked in early morning with three other families that were his close friends. They got their room right away and he seemed happy. So if you decide to stay at a local shelter, team up with three other families that are close to you. Then check in right when the shelter opens. This means four things. First, you should have a strong social network that includes at least three willing families. Second, you must be able to decide very early on if you are going to evacuate. Third, that you will staying at a local shelter. Fourth, you should have up to date shelter information, again from your social network.
Several of our friends who went to shelters could not sleep at night. The environment of fear and uncertainty as well as having no personal space made them restless. The habitual late to bed goers felt miserable after the lights were turned off "early" (9PM). When the storm hit, the noise was unbearable to some. One of our friends felt that she was going to have a heart attack. She thought her end had come. It was nerve wracking to read the fierce storm of WhatsApp messages detailing minute by minute of their experience under the storm.
ii. Hotel. You are likely to pay a premium for a local hotel room during a hurricane. I am not sure if that's a wise move. Yes, you have more flexibility. For example, you can bring more luggage and food with you. The hotel may be built better than your home or slightly better than a shelter. But, you are still going to be affected from a Category 4 hurricane as others hunkering down in shelters and in their homes.
One of our friends who checked into a local upscale hotel experienced a roof leak during the hurricane. Only a few of our neighborhood houses experienced roof leaks from Irma.
Some of our friends stayed at hotels outside Florida. I heard a few went outside the United States. They treated their evacuations as unplanned vacations. They tried to have a good time instead of uselessly agonizing over something that they could not control. That, ultimately, is the right attitude.
Note that this can send your evacuation expenses quite high. Prepare to spend several hundred to a few thousand dollars.
We never thought of evacuating to a hotel, local or otherwise.
Our entire expenses for Irma came to $473.85 (Food: $240.03, Supplies: $129.89 and Gas: $103.93).
iii. Friend's House. An out of state friend's house is the best place to evacuate. Same goes for a relative's house. Make sure you have a warm and welcoming family who can host you for a few days. A crisis is a great way to sort out your true friends from the virtual ones. Start figuring it out early. Otherwise, it could be a little too late as an option.
We evacuated to a close friend's house in Atlanta. We have not seen each other for six years. Many things have changed for both of our families. But our friendship did not. We felt that as if we were in our second home. Their hospitality significantly reduced our stress. We were glued to the TV and social media most of the time. But we felt strangely removed from the crisis that was wreaking havoc on our friends in Florida. What's most important – we had a good night's sleep during our entire stay. When it was time to leave, we realized that if Irma did not happen, we would not have this reunion for a long time.
So thank you, Irma!