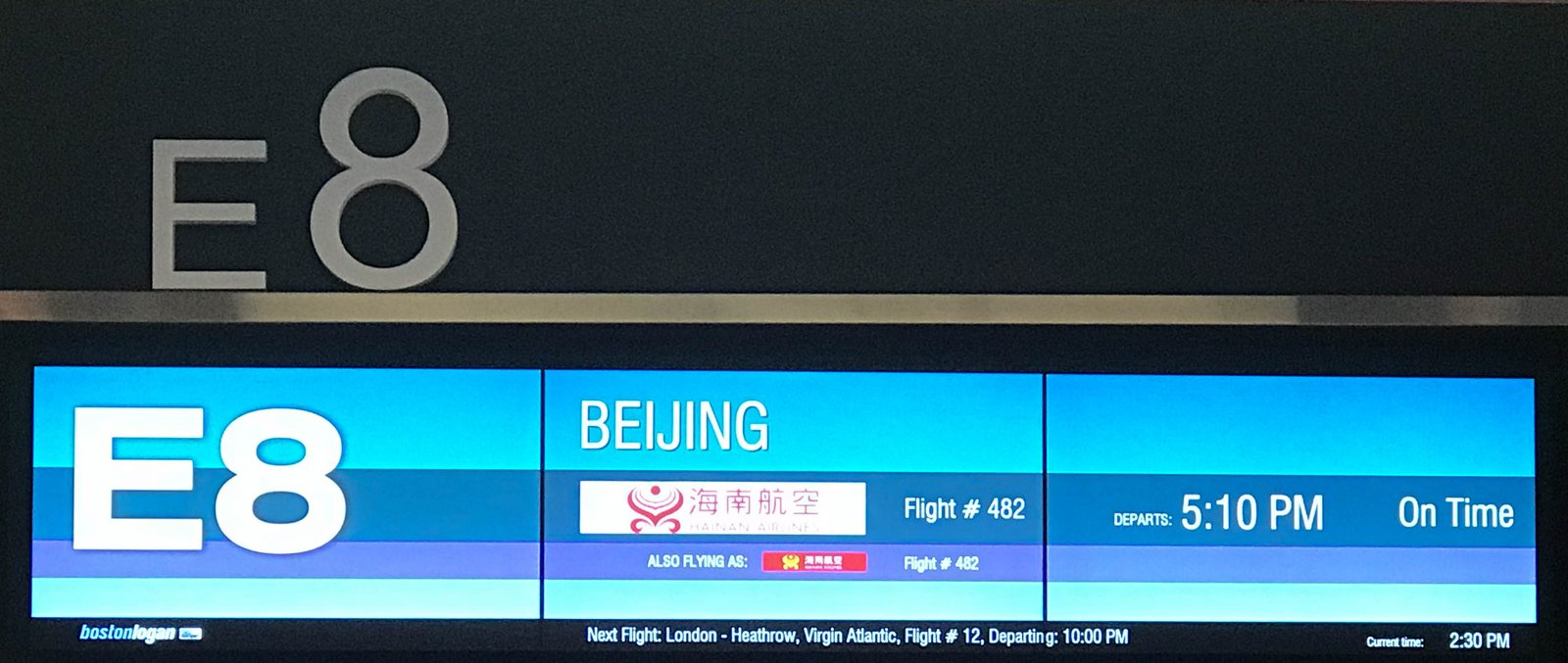 I arrived at the airport late.
"I have enough time", I kept reassuring myself. After all, my flight to Boston was at 11:22 AM ET. And it was only about 10 AM. Fortunately, there were only a few passengers in the JetBlue check-in area. I dragged my two large suitcases to one of the counters. If I am going to pay for checked-in luggage I better get the maximum value out of it. My itinerary advised me that I would be paying $60 for these. Hainan Airlines from Boston would not charge me for luggage.
I handed my passport to the lady at the check-in desk. Then I heaved my first suitcase on the weighing scale. 35 lb. And then the next one. 44 lb. The JetBlue agent effortlessly tagged the luggage and handed me two boarding passes. "Your luggage is checked-in all the way. You are all set." It was so quick. But what about the baggage fee? I vacillated for a few moments unsure if I should ask the question. But then decided to accept life as is. JetBlue rocks!
"But wait, why there's a metallic noise inside your luggage?", the agent was not letting my big maroon suitcase to go out on the luggage conveyor.
"Ah, it's a metal pan for cooking", I was quick to point out. She thought for a moment. Then reluctantly let the suitcase go.
I am also carrying a month of food – black bean spaghetti, pumpkin seeds, almonds and an esoteric mix of superfoods all sourced from my local Costco. In the other red suitcase, I have also packed towels, soap, shampoo and enough shirts and pants that I can wear for at least two weeks without doing laundry. I cannot take any chances.
This is a deployment after all.
The Journey Begins
"Where's my flight?" I searched the information boards for departure flights as I entered Terminal A through security. None of the flights were leaving at 11:22 AM. But there's one flight that was scheduled to leave at 10:59 AM to Boston from Gate 12. And guess what, it had the same flight number as mine!
Run!
The flight to Boston was uneventful, except that I had to consolidate three hand luggage into two. I thought it was a miracle. The third one had two days of cooked food! Cannot take chances with bad airline food.
I followed a labyrinthian path to the international terminal, carefully avoiding the exits that intersected my way now and then. Terminal E was a large, shiny and newly minted international terminal with all the amenities a traveler would need.
As the departure time arrived, I queued up at one of the three lines ordered by seat number. I was feeling a little skeptical about Hainan Airlines. I have never flown it before. And the round trip fully refundable air ticket price, during the peak travel season, was less than half of what I would have paid for a similar ticket to any Indian city.
I was pleasantly surprised when I boarded the aircraft. The plane looked brand new with rich red seat covers and backsplashes. The economy seats were wide and had plenty of leg space. The air host and hostesses were young and pretty. They were elegantly dressed in white and red embroidered uniforms. Their courteous manner and efficient service eased the stress of the 14-hour flight time to Beijing. The dinner of spinach lasagna and cut fruit tasted good and I ate them all. I also saw that they were serving free wine in the economy class. I am now looking forward to making my future travels with Hainan Airlines.
The immigration and customs at the Beijing airport took about an hour. But it was quite straightforward and surprise-free. I picked up both of my luggage within ten minutes in the baggage claim area.
Landed in Beijing
Molly, one of our CSC project assistants, was standing outside the exit with a CSC signboard. She had already reserved a taxi to my hotel. The drive to the hotel took about forty minutes. Although, it was about 8:30 pm, the traffic was still heavy. However, it moved at a reasonable speed and in an orderly manner. No rash driving and abrupt cutting into lanes. I did not see any accident either during my entire ride. The three-lane highway looked just like the ones in the USA. I could see a sprawling city with lights from western style buildings dotting the night skyline. I was told that Beijing is the second largest city in China, after Shanghai, with a population of more than 20 million. I was expecting a very crowded city with narrow lanes cramped with high rise buildings. Beijing looked the very opposite to what I had imagined.
The extended stay hotel is close to the heart of Beijing. We were told from the very first day of the program that the accommodation would not be at par with what we expect during our business travels. But Brandon from Pyxera surprised us with reserving a modern hotel with room and amenities that far exceeded my expectations. A built-in large refrigerator, microwave oven, washer & dryer, kitchen with electric oven stuffed with an assortment of utensils, water dispenser, a very comfortable bed and plenty of closet space with a city view large window made my day. This will help me focus on my assignment instead of worrying about fixing my daily living conditions. I took some pictures of the room to show my family. Let's see how these look.