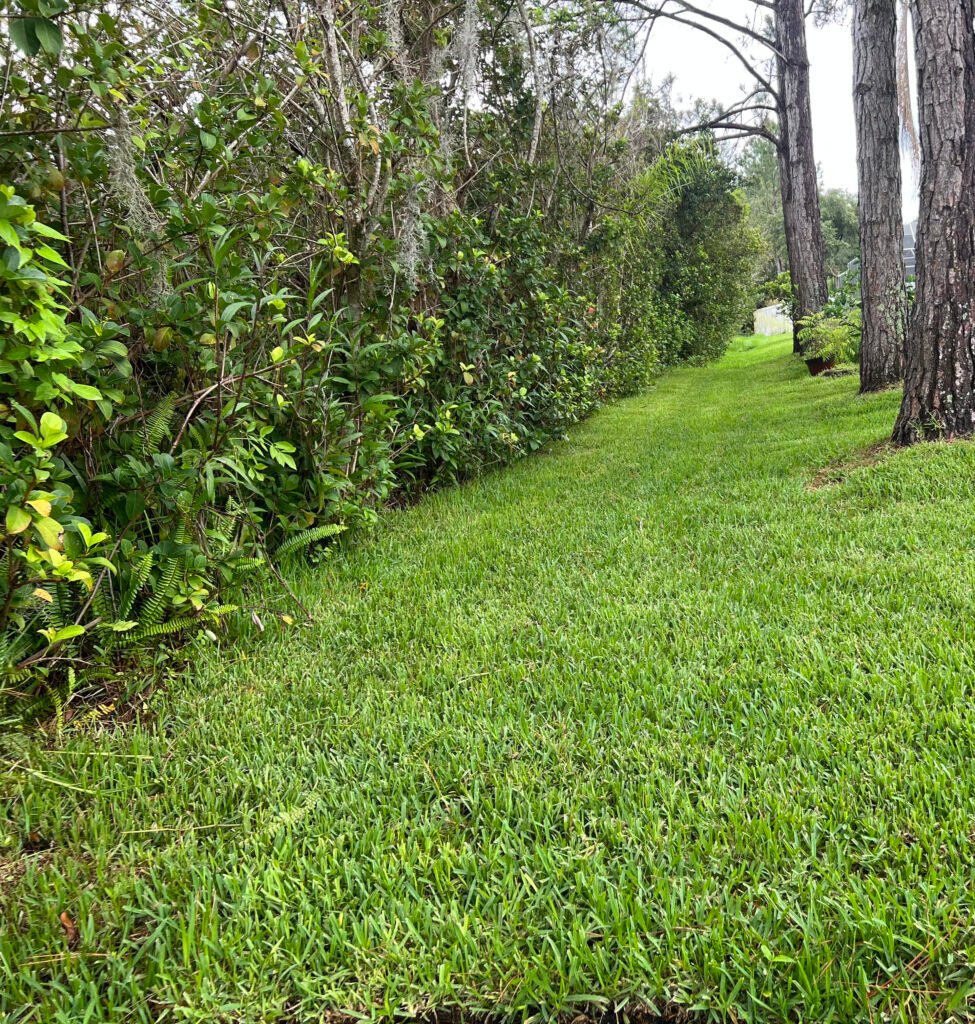 My backyard easement area runs for 70 feet and is about 6 ft wide. It had the worst grading compared to my immediate neighbors resulting in standing water for weeks in the rainy season. It was a breeding ground for Mexican Petunia. The infestation of these invasive plants spilled into my lawn and provided an ideal home for venomous snakes. After ignoring the problem for a decade or so, I eventually got fed up and decided to take action.
Estimates from the professionals to do the entire job started from $5,100. I did not want to risk divorce and decided to do the whole project alone. It included research, purchase of materials and tools, and labor. The latter included uprooting petunias, hauling topsoil and sod to the easement area, grading the land, and placing the sod. Cleaning up the petunias took about three weeks. The grading and sodding phase of the project took 17 days. The total project cost added up to $1,473.64. I funded it from my tiny cash savings stashed in a paper envelope. It was an incentive not to fail and a scheme to reduce the blame radius if I did. A total of 327 bags of topsoil, each weighing 40 lb, were manually dragged about 100 ft (from my car to the easement area). It amounted to a total weight of 13,080 lb and a volume of 245.25 cubic ft. or 9.08 cubic yards. One and a half pallets of sod (600-700 sq ft) were manually transported about 100 ft. (from my driveway to the easement area). These were then laid down, piece by piece, to cover the entire area.
Lesson 1: There's a tremendous difference between doing something just once and not doing anything at all.
I have been planning to fix the easement area for the last ten years. But I could not bring myself to get it started, let alone complete it. This time it was different. I planned, kicked it off, and kept executing relentlessly till completion. It was an experience going through the planning, execution, setback, overcoming challenges, and most importantly, managing the details with patience and discipline. I am confident I can take on any work and get it done.
This feeling alone justifies working on this laborious and thankless job.
Lesson 2: Know when you have crossed the Rubicon
After a few days of filling the easement area, I realized I had worsened the grading situation. If I quit, the entire area would look terrible with its uneven patches of topsoil. Also, the water would now stand over a larger area. There was only one option – to finish the work that I had undertaken. Once that became clear, my mental stress about the uncertainty of completing the project was gone. Instead, I focused on how I could get the job done. In the process, I realized that the option to back out of a project is one of the most significant sources of tension!
Lesson 3: First, research and understand as much as you can about the work and its elements (materials, tools)
YouTube has been the primary source of my information, followed by personal blogs. I soon had a feeling that people were downplaying the actual labor and time involved in the work. It helped me develop a realistic view of the effort based on my constraints. The first constraint was that I had limited labor capacity, i.e., I was the only person available for the entire work. I have limited strength. I am not young and not used to heavy manual labor. The second constraint was the lack of previous experience in undertaking such a project. My third constraint was that, unlike YouTube gurus, I could not just dump topsoil in my front yard and let it sit there for days while I scoop and dump portions of it in my backyard. The rain and dirt would create an ugly mess that would have seriously upset my neighbors and homeowners' association. It implied that I had to purchase the topsoil in bags, which would increase the cost and labor. I needed a hand truck to haul the bags and a tamper to beat down the topsoil. I already had a steel bow rake.
The research suggested using a device to judge the correct grade line. I found electronic (laser) and mechanical devices (reel and level) in the market. I settled on a simple, low-cost mechanism comprising a line reel and a level to construct the correct grade line.
Lesson 4: Next, estimate and procure the elements at the optimal tradeoff (cost, quality, transportation, and other factors)
The biggest unknown was the volume of topsoil needed for grading the easement area. I estimated, using online calculators, that about three cubic yards to a maximum of 5 cubic yards would be enough. However, I used up more than nine cubic yards of topsoil when I finished the project. It shows that estimates can vary quite a bit from start to finish. And when it does, it increases price, effort, and timeline. The most important thing is to persevere to handle this additional scope.
Procuring the topsoil turned out to be a project by itself. The quality and price of topsoil varied from supplier to supplier. I had to pay a supplier for every delivery, a fee ranging from $125-$330 (yes, you read that right). After comprehensive research, which included buying sample bags from two different suppliers, I decided to go with Home Depot. Their 40lb topsoil bag was of good quality and cost $2.27. They applied a 10% discount when I bought 36 bags at a time. I transported these bags myself, thus saving an enormous cost on delivery charges. The total cost of bagged topsoil from Home Depot minus the delivery charges came out cheaper than the landscapers. They were selling loose topsoil in bulk at a lower price but with delivery fees! It certainly paid off to take time to understand the pricing dynamics [Lesson 10].
The next big-ticket item was the sod. My existing supplier did not call me back. So, I started googling for sod suppliers and found one within an hour. They turned out to be the best supplier I ever had. The sod was of excellent quality and delivered by a professional the next day.
Google reviews turned out to be my top resource for researching vendors. It was superior to paid sites that provide vendors reviews from customers.
Lesson 5: Determine a sequence of steps to execute one complete work cycle.
The work cycle is the backbone of your execution. Here's what mine looked like:
Buy topsoil in bags
Transport these bags in my car to my house.
Unload the bags
Drag these bags to the easement area.
Cut the bags and dump the soil in areas where the ground level is under the grade line
Rake the topsoil using the steel bow rake along the grade line.
Tamp the soil down with the tamper.
Walk down on the tamped soil to compress it even further.
I ran a total of 10 work cycles to complete the work.
Lesson 6: Then, analyze the work cycle to determine the steps that have the highest friction. Fix these steps to lower friction and repeat this process as much as possible. If you cannot fix a step, manage it the best you can.
I noticed that I was touching a bag of topsoil four times:
Haul it from the Home Depot floor into my shopping cart and then move it to the cashier's station.
(After payment), pull the bag from the shopping cart into my car (and transport it to my house).
Get the bag down from my car.
Drag the bag to the easement area (about 100 ft or so).
I quickly realized this sequence would not scale for my back muscles. I discovered that Home Depot had employees (loaders) who would haul these bags in my car for free. These eliminated my first two touches for each bag. I could save this labor for each bag to spend on the third and fourth touches.
I bought and mixed topsoil with sand and compost for the first two work cycles to create the "right" filling composition. This tip came from my research. Then I saw that the topsoil I was purchasing already contained these two components. So, I replaced the sand and compost with the topsoil.
I calculated that my car could carry 36 bags of topsoil of 40 lb each within its weight limit. This number also allowed me to claim a 10% bulk discount over the list price of the bags. The new work cycle would begin with purchasing 36 bags of topsoil, having Home Depot loaders place these bags in my car, and then driving home with these bags. The first step (see the previous lesson) now has the optimal tradeoff regarding cost, transport, and volume.
Dragging the bags to the easement area had the highest friction in the entire work cycle. I could only transport six bags on my hand truck at a time. The reason was not the total weight but the soil through which I pulled my hand truck. The yard turned into mud from the rain, and the small wheels of the hand truck would get stubbornly stuck into it. Pulling the hand truck with a 240 lb load through about 30 ft of this goo would stress my arm and shoulder muscles. I realized that I was an injury away from quitting my work. So, I did three things:
I would push my body backward with my feet instead of pulling the hand truck. My hands would hold the hand truck firmly while my legs would do the work. This tactic considerably helped to lower stress on my body.
I would reduce the number of bags on the hand truck to three after the initial hauls to lower my body stress further.
I would stop and rest when I felt exhausted.
My goal was to sustain the work through its completion [Lesson 9]. I could not improve this step much, so I managed it as best as possible. It slowed down the work cycle, but, on the upside, because of my patience, I did not suffer any physical injury [Lesson 10].
For step 7, I found out that walking on the leveled topsoil (step 8) compressed it better than the tamper. It also preserved my energy and eliminated stress on my arm and shoulder muscles. As a result, I would tamp the soil only when I felt necessary.
Lesson 7: Regularly step back and retrospect the completed work from multiple aspects. Learn and adjust your action accordingly.
I would stop working every half an hour or so and walk back and forth to see if the grading was looking good. If I found a spot that looked problematic, I would fix it before proceeding with the work. During one of these inspections, I discovered that I hugely underestimated filling a large area. Once I got over the mental setback, I focused my effort on simply repeating the process (work cycles).
I discovered that the rain washed out a considerable volume of topsoil soil into my neighbor's yard. It was messing up the grading work. After some thought, I put four bags of pebbles at one end of the easement and a set of six paver blocks on the other. It took care of the problem.
After the topsoil work was done, I spent about a couple of hours in the rain diligently inspecting the water flow and tamping down the entire area to ensure the grading was good.
Lesson 8: Determine a metric to measure the progress of your current work phase.
The initial phase of the work consisted of taking out the Mexican Petunias that had infested the easement area. It took me about two hours to clean a two feet square area. But this was misleading as I used to get distracted by other activities, such as cutting tree limbs that I thought were too big and annoying. These did not help me to advance the work. Then it became apparent that the number of 13-gallon trash bags I was filling up with the uprooted plants was a good indicator of progress. I decided to stop after stuffing three such bags to their bursting points. I could have extended it to four or six etc. But I felt three was a number I could keep repeating every day until I completed the work. Otherwise, I would have run the risk of getting exhausted to a point where I could no longer continue the work [Lesson 9].
After about 35-40 bags, I decided that the petunia system had been removed. I estimate this took me about three weeks as I did take time to rest in-between days.
Grading the easement area was the next phase of the work. It involved dumping topsoil and manually grading it with a steel bow rake. My metric for the work cycle was 36 bags of topsoil, each weighing 40 lb, must be brought from Home Depot at a time, carried from my car to the easement, then dumped in the easement and graded. The total weight of these bags was close to the maximum load my vehicle could carry. Putting more bags could have led to a breakdown risk. Also, I found that hauling these bags to complete the grading cycle is something I could sustain without suffering bodily injuries or experiencing a breakdown level of exhaustion [Lesson 9].
Lesson 9: You must be able to sustain the effort to complete the work.
Starting work is easy. But it takes grit to complete it. For example, your time estimates could be way off from reality. It will create a mental setback once you realize it will be more expensive, labor-intensive, and time-consuming than you thought. You will face criticism from people close to you for not quitting and not completing the work soon enough. It can pressure you to hurry up, cut corners, do half-baked work and get physically injured or sick in the process. Ignore the critics and never force yourself to deliver more in the same time. After all, you have limited ability that can only produce so much progress daily. The most important part is holding this steady productivity level until you complete the work [Lesson 10].
Lesson 10: Patience is mandatory for effective execution.
Patience is a significant factor that helped me complete the work without any bad incidents. It is tempting to hurry up and do things faster to "accelerate to the finish line." Every task needs the time to do it right. A task has a rhythm based on what it is, who is doing it etc. to do it correctly. When you find your optimal rhythm for a task, do not try to change its pace. Otherwise, you will open yourself up to risks leading to failures and accidents. And it just takes one such event to set you back. Then you may have to unwind what you did to restart the work in the rhythm that has worked before. As a result, you will lose time, money, and effort in varying degrees.
Lesson 11: Discipline is mandatory for effective execution.
Discipline is the ability to execute methodically. That is,
Performing the steps in the proper order
Putting in the needed effort and time to complete a task in its optimal rhythm
Continuous analyses of the process to determine gaps, areas of improvement, and things that are working well
Deciding how to rectify the shortcomings or manage the downsides
Stepping back periodically to assess progress and make the needed changes
Ignoring what people are saying